Click here to view original web page at www.thecourier.co.uk
Tayside Council on Alcohol's chief executive Kathryn Baker at the SafeZone bus. The severity of lockdown on people suffering from mental health and addiction issues will not be known for a long time to come, it has been warned. Substance misuse support services have already seen an increase in
Click here to view original web page at www.thecourier.co.uk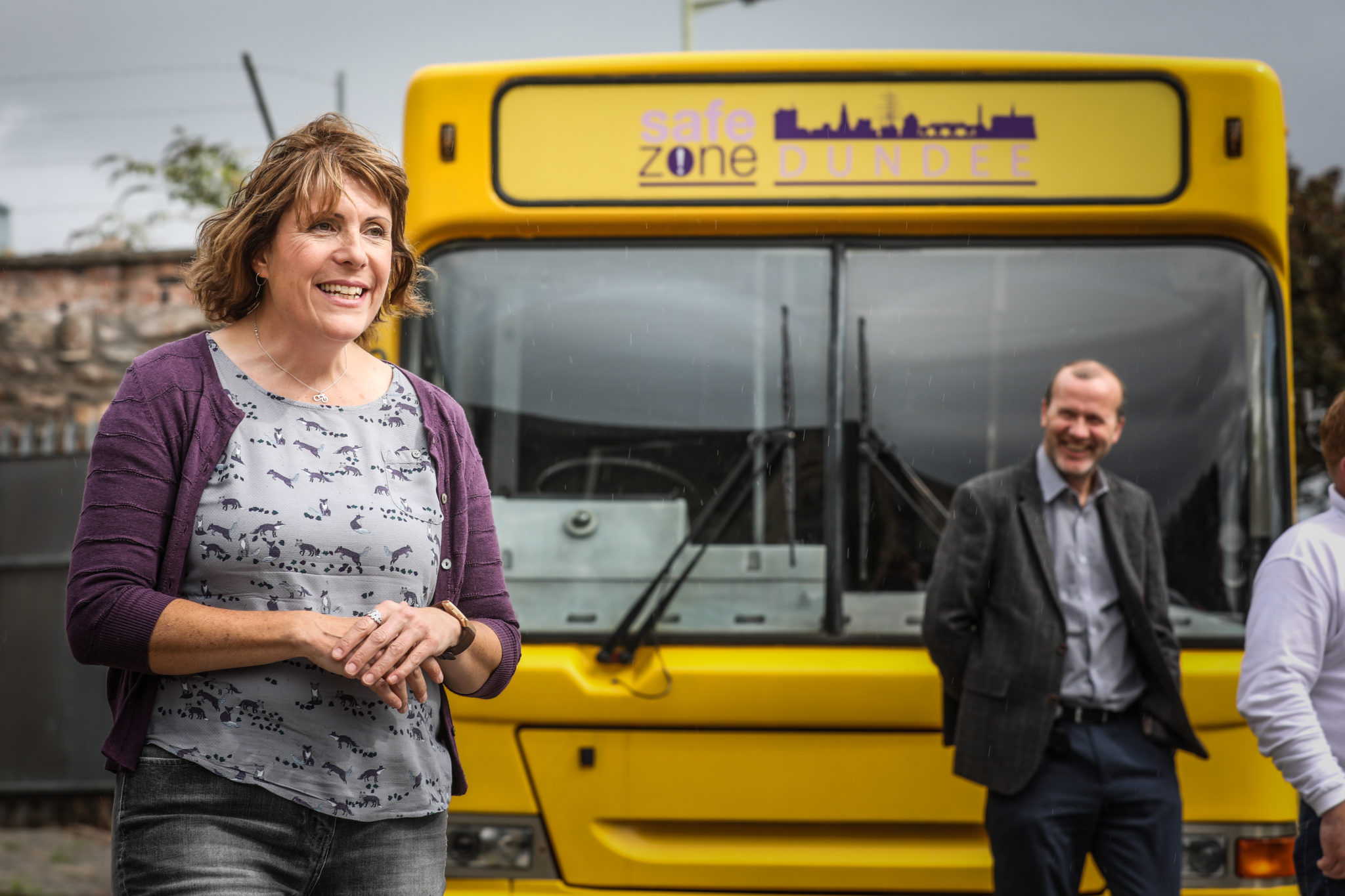 The severity of lockdown on people suffering from mental health and addiction issues will not be known for a long time to come, it has been warned.
Substance misuse support services have already seen an increase in people seeking help since the start of the pandemic but it is feared there are many more people whose mental health has deteriorated during lockdown, or who have developed addictions.
Kathryn Baker, chief executive of Tayside Council on Alcohol (TCA) fears that while lockdown reduced the spread of coronavirus, it may have created a raft of other problems.
"We are absolutely seeing an increase in referrals for alcohol support services," she said.
"We know alcohol consumption has gone up for a lot of people during lockdown, for a variety of reasons.
"It's still unclear just how severe and long term the effects of that will be and it is concerning.
"It may be that some people, as their lives return to normal, so will their alcohol intake, but for a lot of people drinking is very habitual and it is very easy to slip into a routine of a bottle of wine after work and that can increase very quickly.
"In our culture there is very much an attitude of treating alcohol as stress relief so as people find their way through what is a very different time, you can see how their dependency on alcohol can increase and what starts off as 'I've had a tough day so I'll have a glass of wine' can turn into an addiction."
While lockdown, coupled with furlough, has seen many people slip into isolation, Kathryn fears the problem is also extending to people who have worked through the pandemic as they have not been able to use their usual hobbies as stress relief.
"We are beginning to see the impact on frontline staff who have powered through this whole time, just getting on with things as best they can, but they haven't been able to do the things they would normally do to de-stress like exercise or retail therapy so they have been drinking more," she said.
"It can be a big help if you have a good support network of family and friends and that is part of the problem for a lot of people we see – they don't have that support network to fall back on."
TCA, along with other agencies, operates the Safe Zone bus in Dundee which usually caters for weekend revellers in the city centre but when pubs closed it was repurposed to help the homeless and vulnerable.
Dundee is the only city in Scotland to host a bus of this kind, which provides minor medical treatment and guidance on where to access support for food packages, addiction, homelessness and mental health problems.
On Friday, staff and volunteers marked the seventh anniversary of the project, and the first anniversary of the new bus, which was refurbished by Dundee-based Alexander's Community Development and Froggy's Chop Shop.
The bus has been visiting Lochee on Saturday nights and the service is to be expanded to provide support in Stobswell and Hilltown in the coming weeks.
Since operating from Lochee, 199 people have visited the bus. Most required welfare support but 70 people were given nursing or community care.
At Friday's event Kathryn thanks all of the supporters who have helped keep the bus running.
She added: "It allows our community nurse team to see people who normally don't access services.
"People can get treatment on the bus if appropriate but they can also get advice on where to access the other services they need.
"It allows us to see the people who need us, when they need us and where they are."
TCA can be contacted by calling 01382 456012.